This is my new favorite foundation – I am so in love with it! It's perfect, perfect, perfect. So let me tell you about it. It was designed as a complexion perfector and it truly does perfect my complexion. The foundation provides lightweight coverage. According to the description, it was inspired by super organza, one of the lightest fabrics in the world. When I apply it, I don't feel that I am wearing any foundation at all – for the first time in my life. I compare it to other foundations I've had before and have now (i.e., Chanel, Dior) and none of them are even close by the way Armani Fusion foundation feels on my face and miraculously transforms it. It also has SPF 15 which is especially great for summer time.
Giorgio Armani Maestro Fusion foundation costs $64. You get standard amount of high-end foundation for this price: 30 ml or 1 fl.oz. This foundation comes in a glass bottle with a glass pipette. Packaging is very cute and convenient to use.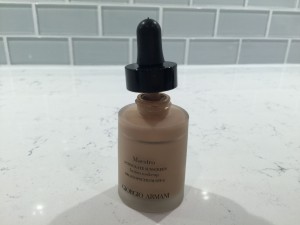 You need to shake the bottle before you start using the product. The texture is very thin: it is an oil-pigment suspension – because of this texture the foundation absorbs momentarily, feels natural and weightless. As a primer for this foundation, I use Hourglass Veil Mineral Primer: they totally work together. I apply foundation with either a flat foundation (light coverage) brush or Beauty Blender sponge. I don't recommend using full coverage brush like Dior Professional Finish Fluid Foundation Brush. You don't need much of Fusion foundation to get good coverage. With full coverage brush I always end up picking up too much foundation. Sephora description recommends applying Fusion foundation with your fingers but I don't think it's a good idea: you don't want to apply any liquid foundation with your fingers. It's messy, coverage will be uneven and after you are done you have to run to the bathroom to wash foundation off your fingers.
I bought Fusion Makeup in 5.5 Color: it's a light to medium beige with subtle yellow/peach undertone. It is a great color and suits my skin superbly. I have to say that I didn't find the color that matched my skin that well among other liquid foundations that I tried: Dior Nude Air Serum (all medium colors had way too much orange in them), Chanel Vitalumiere Moisture-Rich Radiance (either too light, or too dark, oxidizes really badly).
Armani Fusion does not oxidize, does not look greasy in a couple of hours even in the 90+ heat, does not feel heavy and does not clog my pores. It also hides my imperfections (freckles, for example) while still creating an effortlessly natural look. This foundation is matte, does not have any shimmer or glow in it. I add glow with the bronzer and highlighter. Armani Fusion hydrates my skin but at the same time, even though it has volatile oils in it, does not create any oiliness. It completely adapts to my skin and rather than conceal my complexion like other foundations, it compliments and perfects it.
Armani Fusion Makeup Foundation is an Allure Best Breakthrough Beauty Award Winner. I am not surprised because I personally adore this product. I hope it will always be sold in the States and they never change the formula. If they do, I'll go and buy the very last batch with the old formula and keep it in a cellar. 🙂
Five stars, for the first time. 🙂
| | |
| --- | --- |
| Packaging | |
| Natural looking | |
| Coverage | |
| Good value | |
| Long wearing | |
| Awesome factor | |
I bought this foundation at Sephora store. You can find it online:
Giorgio Armani Maestro Fusion Makeup Octinoxate Sunscreen SPF 15 in Color 5.5
Giorgio Armani Maestro Fusion Makeup Octinoxate Sunscreen SPF 15 in Color 5.5
reviewed by

Gladys
on August 11, 2015
rated

5.0

of

5