This is a relatively new product by MUFE. It came out in the spring and I bought it almost right away. However, with the move into a new house (yay!) I got to writing about it only now.
This sculpting duo is a compact containing a highlight shade and a contour shade, which really is a highly pigmented bronzer. Highlight shade is for enhancing your best features. The contour shade is for contouring your face and correcting features you are not happy with . The compact costs $39 but I think the price is pretty reasonable because usually I have to buy a bronzer and a highlighter separately, and the total price for both is between $50 and $80. Example: Dior bronzer ($50) + Benefit High Beam highlighter ($26) = $76.
The duo comes in a classic MUFE compact – black, sleek, simple. Not very elegant, but functional and convenient. The compact has a nice mirror which I use all the time. There is no brush or any type of applicator that comes with the compact. I use a Tarte brush (I will talk about it in detail below).
I have medium skin with yellow undertone and 1 Pink Beige is a perfect shade for me. A highlight shade is a very light silvery highlighter which would work for any person with fair-to-medium skin. A contour shade is soft and matte bronzer about 3 shades darker than my skin tone. I tried 2 Golden shade at the store – it was way too dark and orange for me. When I looked in the mirror, instead of expected subtle sculpted look I saw an oompa-loompish mug.
The texture of this duo is gel-cream which, in my opinion, is perfect for sculpting purposes: it's lightweight and versatile. It's really easy to apply both bronzer and highlighter – they are neither too powderish to dust all over the face nor too creamy to smudge. I apply the duo with tarte Slenderizer Bamboo Contour Brush – this brush is something spectacular. It works with the duo in such an easy and amazing way that I don't know how come I didn't sculpt my face every day before. MUFE recommends their own Large Flat Blush brush to use with the duo but I prefer tarte because 1) tarte brush has two ends, one of which is perfect for bronzing and another one for highlighting, 2) its fluffy, angled side blends in the bronzer flawlessly and has the best shape for sculpting, 3) I like tarte brushes' quality more than MUFE's.
Okay, now let's get to the most important part of this review – how you need to apply the duo to create a flawless look. I used MUFE instructions on Sephora as a basis for my routine – it works pretty well for me. I put their instructions below: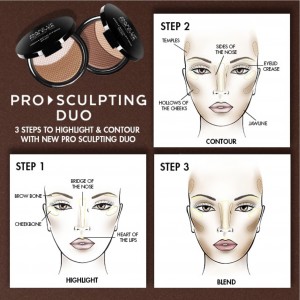 (This picture belongs to Make Up For Ever. I just found it very helpful for me and wanted to share it with you ladies.)
You can also watch a video (it is available on Sephora website). But here is my step-by-step process because I think not only the technique is important but also what tools you use, what you apply before and after the duo, etc.
Step 1: Apply your foundation primer and foundation.
Step 2 (optional): Apply Benefit High Beam highlighter on cheekbones and a little bit on hollows of cheeks. It creates additional glow and looks very healthy and natural. You can use the highlighter that comes with the duo but I think that creamy texture of High Beam just works better with the bronzer and a blush.
Step 3: Tap the angled side of tarte brush (or use any available blush or contouring brush) in the bronzer (contour shade) and start contouring your face. I use a lot of contour shade on the hollows of my cheeks — I have high cheekbones and like to enhance them via minimizing the hollows of cheeks. I also use just a little bit of the contour shade on my jawline, temples and sides of the nose. Be careful with contouring these features because if you overdo contouring, your face will look soiled and weird rather than contoured.
Step 4: Use the denser, domed side of the tarte brush (or you can just use your index finger) to highlight bridge of nose and the area under eyebrows. It is also recommended to highlight heart of the lips but I never do it – doesn't seem necessary to me. The highlighter gives a natural and subtle glow to your face. It is not too shimmery and therefore won't make you glimmer like a Christmas tree decoration.
Step 5: Blend.
Step 6: Apply the blush of your choice (my favorite is Hourglass). Blend again. For blending I use both the angle-sided of the tarte brush and my blush brush.
Step 7: Apply loose powder. I use MUFE or Givenchy.
I am very happy with this duo – both texture and pigmentation are so great that it takes literally a minute to apply it. Sculpting is now a crucial part of my everyday routine and even my husband notices that it makes a huge difference. And he usually can't tell when I change the color of my hair. When I use the duo, my face just looks much better. It helps me achieve a naturally pampered, elegant and healthy look. In short, I love it.
This is my rating for the duo:
| | |
| --- | --- |
| Packaging | |
| Natural looking | |
| Soft shimmer | |
| Good value | |
| Luminous glow | |
| Awesome factor | |
I bought both the duo and the brush on Sephora:
Make Up For Ever Pro Sculpting Duo in 1 Pink Beige
tarte the Slenderizer Bamboo Contour Brush
Make Up For Ever Pro Sculpting Duo in 1 Pink Beige & tarte Slenderizer Contour Brush
reviewed by

Gladys
on July 1, 2015
rated

4.4

of

5